MADHERO: What's up guys, hope you're enjoying the end of your summer vacation. Hopefully its spent in Singapore surrounded by insanely wealthy socialites and living a life of luxury. Instead of us, trapped in a crappy dimly lit apartment, trying desperately to clean up all the puppet jizz that's literally everywhere and went on for way too long. Its a felt Jackson Pollock if there ever was one. So yeah, I had hoped for a slightly better end to the summer season, but here we are.
LARRY: Damn that was quite a descriptive intro, Mad. Not sure I'm happy about it.
STICKMAN: Puppet Jizz is our lives now, we might as well accept that.
MADHERO: Once you've seen a puppet blow its load, its hard to forget. Anyway, we might as well take a break and go talk about some news.
LARRY: *shudders*
NEWS
Normally, we wouldn't be talking the Oscars until at least October, but recent changes have sounded off the biggest change to the Academy since 2009, when they expanded the Best Picture nominees from 5 to a maximum of 10. That change, initially implemented to get more known films in the biggest category, has largely failed, and the show in general continues to decline in ratings, with the latest show scoring the lowest ratings in their history. This has led to some pretty major changes which have been received... let's say mixed.
Under pressure from ABC, the show will be cut to 3 hours, as well as from 2020 on, will be held earlier in the year. That shorter length will mean that some award winners and speeches will be done whilst commercials are going on and will appear later at some point in the broadcast. While I don't think anyone will disagree with the length, its shitty that some smaller awards will not be allowed to shine to millions. The more egregious decision, comes in the form of a new category: Outstanding Achievement in Popular Film, meant to highlight the blockbusters that generally have an hard time getting nominated. Pretty much everyone has dunked on this decision, with it being a pretty blatant attempt to get films like Black Panther on the ballot which is otherwise a less sure thing. As of right now, its hard to say what the award even means, but it can't help but sound condescending to both normal and unorthodox Best Picture nominees. Look forward to our predictions at the end of the year.
LARRY: I'm still waiting to hear exactly what that award even means, to be honest. But on paper, it doesn't sound like a good idea.
STICKMAN: Siiiiiigh. The Oscars just don't get it.
MADHERO: O those poor blockbusters. Now we finally get to see Vin Diesel win a Oscar for Fast 10.
STICKMAN: Everyone's asked them to take mainstream cinema more seriously, instead they're throwing it the world's worst  bone.
MADHERO: Its doing what the Best Picture award was meant to do when it expanded, which it did in the beginning (Districht 9, Avatar, Toy Story 3) but only made room for more "arty" films. Which should be fine, the best films should be nominated, but it didn't help matters.
STICKMAN: The best films should be nominated, but I think we can all agree that they generally aren't. Some? Maybe. But not most.
LARRY: The best films from the general consensus, sure. Arthouse films generally always have a strong showing.
MADHERO: Its still really difficult to know what this category is going to entail. That's up for speculation, and the Academy has stated that films nominated for this new category can still get nominated for Best Picture, but that road feels a lot more difficult now.
LARRY: Yeah, again, so many factors could determine what this award means. I'm waiting to hear those before I blow a gasket. But I can see why people aren't happy.
STICKMAN: My main thing right now is presenting some of the awards outside of the show. That's fucking stupid.
LARRY: Yeah I HATE that. That's upsetting me more, honestly. The Tonys do that and it's so annoying.
MADHERO: It sucks for the lesser categories who won't get a chance to shine, so that ABC can add more staged invasions of cinemas with hot dog cannons.
STICKMAN: There shouldn't be "lesser categories" though. The awards are a celebration of cinema and the people who make them. Not just Brad Pitt getting a free pizza.
LARRY: Exactly. Every category is worthy of being showcased.
MADHERO: I can't pretend to care as much about Short Documentary as I do the main categories, but it's still nice for those people to get recognition, like the winner of Best Short doing her speech in sign language.
STICKMAN: It's not about what one person cares about, though. It's about the achievement of reaching that level of recognition, and also shining a spotlight on less celebrated corners of the medium. I FEEL.
LARRY: If someone is getting an award, it deserves to be recognized as a part of the ceremony. Period. This is only going to create a more thorough dichotomy between types of awards, which sucks because everyone in the industry works hard.
STICKMAN: Instead of adding a Popular FIlms category they should be adding Stunt Work or Motion Capture .
MADHERO: We're going to see what happens in terms of ratings. Its obvious thosr have continued to decline which is why it has happened. Will this change things? i doubt it, but we'll see in late February.
So, we've known for a while now that, despite the trailers receiving mixed reactions and the actual film not having even been released yet (oy...), Sony is putting its bets on Venom to kickstart a brand new cinematic universe focused on the many supporting baddies in Spider-Man's rogues gallery. We knew they were working on several different projects, but perhaps we didn't realize just how deep this delusion goes. Somehow, they seem to be topping their last ridiculous effort to MCU the Spidey universe, which was canned after ASM2 was a commercial and critical failure.
Besides for our goopy friend's cinematic return, which is now probably going to be PG-13 instead of R to potentially crossover with Spidey's escapades in the MCU, we got Morbius starring Jared Leto, the previously announced "Silver and Black" movie, focusing on Silver Sable and Black Cat, will now be two solo films, with original director Gina Prince-Bythewood most likely going from director to producer. As far as new stuff, Richard Wenk is writing a solo film for Kraven the Hunter (now THAT'S a movie I would pay to see), we are also seeing Sony pushing diversity in a trio of solo films for Silk, a Korean-Amerixan female superhero, Jackpot, an older heroine (and, depending on which identity they choose, a lesbian), and Nightwatch (not much there but he's cool I guess). While all of these plans sound ridiculously out of nowhere story-wise and have barely even begun development, at least there's diversity I guess. The bottom line is that clearly Sony has learned nothing since their last fuck up, and if Venom turns out to be as shitty as it looks, we're looking at yet another cinematic universe going up in flames...or down in goop...I dunno.
STICKMAN: Make it stoOoOOop.

MADHERO: Extreme Detective Cooper voice: ITS HAPPENING AGAIN!
STICKMAN: Why can't they wait and see what the response to Venom is before making 50,000 film plans and shoving teasers for them all into their movies. Did they learn nothingggg from Amazing Spider-Man?
LARRY: Apparently not. Literally nothing.
MADHERO: Just you wait when they revive that Aunt May spy prequel thing
STICKMANLast Saturday at 10:37 PM
Oooyyy. I will say, the focus on diversity is great, I think that's important, although I feel for Sony it's more them sniffing the cash train that was Black Panther, but there you go.
LARRY: What's hysterical to me is that, with the Fox merger, it's only becoming clearer that Sony has no reason to own the characters it has the rights to. They simply don't understand how to do the cinematic universe. It's so fucking frustrating.
MADHERO: I mean, they own the license still. Its very much a miracle that Spidey is in the MCU, but the way they're handling this now just screams like they're reviving their Amazing Spider-Man plans, which crashed in a wall.
STICKMAN: Amazing Spider-Man as a series was really dogged down by the need to establish a UNIVERSE with over-arching mysteries and characters who will become more important later on. Except it didn't work because they didn't make a good enough film with that.
LARRY: I loved that stupid plot line about the Sinister Six in ASM2. It was so pompous, it was almost like watching a trainwreck happen before it actually happened.
STICKMAN: Venom looks to be another car crash, prove me wrong, Sony,  I'd love for it to be great, but yeah. Unlikely.
MADHERO: I feel like Venom is probably going to be its own self-established thing with major sequel bait, but that the films are going to be separate for now. I do find it hilarious they're trying to go PG 13 now.
LARRY: It looks like a total misfire. Going PG-13? What a joke. You joke about him dismembering people limb from limb and then just like...cutaway? Bullshit.
STICKMAN: Especially after the trailer's edgy obsession with body parts.
MADHERO: To be fair, they never promised a R-rating. It just seems like that was the initial plan and they backed out. There's some pretty edgy content in the trailers and that'll be softened, like a turd.... in the wind.
LARRY: A goopy black turd.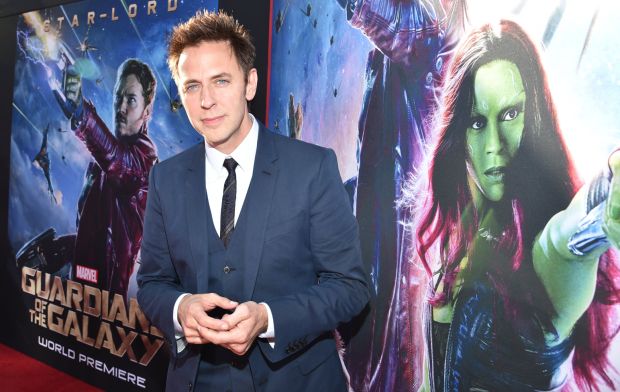 A couple episodes ago, we talked about the disappointing news that was James Gunn being fired as director of GotG Vol 3 following a resurfacing of offensive tweets by a right-wing campaign to get him discredited. It's fair to say the story has been a source of constant interest from the various entertainment news outlets of the world, and whilst not much has actually changed, there's still a lot more to unpack. There was apparently some pressure from Marvel Studios towards the heads at Disney to reinstate him as director, including the whole Guardians cast signing a letter. For one fleeting moment, rehiring seemed a possibility, with studio head Alan Horn meeting with James Gunn to discuss things, but he's ultimately decided to stick to their gun(n)s and not rehire him for the position.
However, in a move that somewhat negates any moral high ground the studio has by sacking him as director, they still intend to use his script, which does mean he'll still both be credited, and paid by the studio, but seems weird after everything that's happened. Dave Bautista specifically being very vocal and scathing about the situation, threatening to quit. Despite this, Disney seem to be refusing to budge on the issue,. For Gunn though, there's plenty of interest from other studio's, so he'll find new work, but that does not change the fact how much of a shame this is.
MADHERO: God, this has only been going on for a month but already feels like forever.
LARRY: They will use his script but not have him on as director? So...acknowledge his place in the film's production and credit him yet act as tho he's this disreputable, offensive person that doesn't hold Disney's values?
STICKMAN: Movies sure are a thing.
MADHERO: Its a complicated scenario, and it'll likely still use his script albeit with some polishing. Its still a first draft. They can't use it without reaching a settlement with Gunn, but the chance of him directing seems to be officially over.
LARRY: Alan Horn can go suck Venom's big tongue for all I care. The man is a hypocritical asshole with no backbone. This is the same dude who banned publications from going to see early critic screenings because of good journalism. I can't say I'm surprised but I can I'm angry as hell.
STICKMAN:  Are you telling me Disney aren't the house of magic and wonder and are instead a money-grabbing, cynical corporation teeming with greed and corruption?
MADHERO: It continues to suck. The reason why especially.  It was all so very unnecessary
STICKMAN: This situation sucks, especially now they're not even taking any moral high ground and are instead being stubborn about a rash and uncoordinated termination of a major player in their biggest live action franchise. But there you go, Christopher Robin out now in cinemas.
LARRY: Alan Horn, the man who succumbed to an alt-right rapist and his stupid smear campaign.    

MADHERO: Oof. Nothing more to add there.
STICKMAN: None of us are getting jobs at Disney in the future now.
For fans hoping to see two Hollywood Chris' on screen together at last, those dreams may never see the light of day, sadly. We know that there's a Star Trek 4 in development, having recently hired a hired a director in SJ Clarkson: the first woman to direct one of the films. We also knew it was going to involve some time travel, which would let Chris Hemsworth return as Kirk's father, whom he played before his breaktrhough as Thor.
However, it now seems that negotiations have fallen through for both Chris Pine and Chris Hemsworth The studio is attempting to lower the Chris' pay cuts due to the last film, Star Trek Beyond, underperforming, but the Chrises won't budge. And it's not hard to see why: Pine and Hemsworth are both big players in massive franchises, so to have their pay cuts lowered for a franchise that may not even be worth their time? That's no good. Thankfully, the remaining mainstay cast members are likely to return, like Zoe Saldana and Jon Cho. But will the series' main character have to be recast? We'll have to wait and see.
MADHERO: Well this sucks. Was really hoping for a Star Trek 4 and it was surprising they went through when Beyond underperformed
STICKMAN: Can't wait to see what timeline altering bullshit they come up with for Kirk suddenly looking like another vaguely attractive white man.
MADHERO: Hohoho, Chris Pine is not vaguely attractive. I guess with Wonder Woman he has another franchise to fall back on.
LARRY: I mean...this won't stop ST4 I feel. The episodic format makes things a lot more flexible. I can see them leaving Kirk behind and introducing some new protagonist.
STICKMAN: I feel like there are more people than you'd expect that would be mad about a recast.
MADHERO: There were people mad when this movie happened, and hell, they just casted a new Spock in Discovery. We know that Chekov won't be recast after Yelchin's death, but either way its a complex scenario. You can't really skimp on budget with something like Star Trek,
LARRY: But they sure can try. It's even funnier cuz it's the company's fault Beyond underperformed. It was marketed poorly.
STICKMAN: There's a lot more space action film competition now then there was when the first Star Trek film came out. Gotta stand out or be fantastic, and Beyond was...okay.
MADHERO: It's a shame that it underperformed when it's probably the best in the trilogy. That Sabotage sequence remains fucking awesome.
STICKMAN: Sabotage bit was great. Rest of it was....fine.
MADHERO: We'll always have Discovery, the return of Picard, and that weird Tarantino thing that may or may not happen.
LARRY: That's true, it's not like ST is dead. It's kinda going through a resurgence.
STICKMAN: Star Trek Discovery took a weird ass turn in the last half of the season, but it kinda worked. Maybe this next Star Trek movie should take risks and not play it safe or repeat previous stories. Or just...y'know, not boothherr.
MADHERO: Or go where no one has gone before.
It remains hard to believe, but we are getting an Sonic the Hedgehog movie in 2019. We all lost our collective minds when we heard that Jim Carrey was going to play Ivo Robotnik/Doctor Eggman, and we've now seen set photos showing the movie takes place in Green Hill and there will be a chase scene in San Francisco, maybe something similar to City Escape in Sonic Adventure 2. Of course, one of the bigger questions still remained: who would be playing Sonic? Would Roger Craig Smith reprise his role, or would we get some stunt casting and see Jaleel White return? Not the case, as the role has now gone to Ben Schwartz, who's probably best known for being Jean Ralphio in Parks and Recreation.
Considering Jean Ralphio was an annoying little prick trying way too hard to be cool, its good casting. Schwartz seems really excited about it on his Twitter account, which can't help but be endearing. It also continues his weird crusade to play every blue-tinted characters from 90's childhood, playing Leonardo in the new Ninja Turtles series, Dewey in the Ducktales reboot, and he was a Smurf in the Lost Village. While my excitement for the film mainly revolves around the inevitable meltdown of the Sonic fandom, I can't deny this is pretty good casting. Now to see what he actually looks like.
STICKMAN: AHAHAHAHAHAHAHAHA
MADHERO: As Ben Schwartz said: I'M SONNNNNNNNNNNNIC!
STICKMAN: Set photos showed Sonic driving a Range Rover or something and I just...this film gonna be a glorious trainwreck.
LARRY: I don't really know Ben Schwartz super well. But from what I've seen, he is kinda funny. Would make for a good voice role.
MADHERO: He's great as an annoying douchebag in Parks and Rec, and that at least are some parts of Sonic's characters. He's also a pretty good voice actor, so he's actually a pretty good choice imo.
STICKMAN: I feel Roger Craig Smith was an obvious choice to make, he's the modern Sonic voice actor and does a great job, but oh wellllll.
LARRY: This movie clearly has no intention of replicating modern Sonic lol. At least not in actually interesting ways.
STICKMAN: WHAT'S THE PPOOOINTT. WHY DO VIDEO GAME MOVIES HAVE TO BE THEIR OWN STUPID THING NOBODY ASKED FOOOOR.
LARRY: I've said it before and I'll say it again: Jim Carrey as Doctor Robotnik has my ticket purchased. This movie could look like the dirtiest turd and I would pay for a ticket.
MADHERO: I'd have probably gone for Roger Craig Smith as well, but I think Schwartz is a good choice. But hey, I'm just sitting from afar waiting for the bomb to go off
STICKMAN: I am also waiting for the fireworks but doing so without paying to see the movie. This and Detective Pikachu make 2019 the year of Live Action/CGI mascot video game movies. And I mean...that's a thing?
MADHERO: 90's video game movies we should've gotten 15 years ago.
STICKMAN: Can't wait to hear your reasoning for being all on board with a stupid Sonic movie where Green Hill is an American town and Sonic drives an SUV but are also massively opposed to the mere existence of Detective PIkachu, Larry.
LARRY: Jim. Carrey. Period. Does it look like I'm acknowledging my decision here is rational?
MADHERO: I'll be sittign from afar, thinking about my former Sonic fan days and laugh.
STICKMAN: Sonic is dumb and anyone who likes Sonic games is dumb. 
As the Summer season draws to a close, we inevitably, as film nerds  start to turn our attention to Oscarbait season. With that potent October-December period approaching rapidly, and the big film festivals gearing up their tantalizing lineups of acclaimed directors and rising talents, we of course, start to get our first look at these potential awards frontrunners. Last episode we talked about Barry Jenkins' 'If Beale Street Could Talk', which is looking very nice indeed...this week we've got our first look at Alfonso Cuaron's next movie, Roma. The director of Children of Men and Gravity takes his time making films, but they tend to come out of it pretty damn well, and this seems to be no exception.
Promising to be a far more personal and intimate film than his previous two releases, Roma is a black and white, Spanish language production that aims to have a limited theater release (Presumably for awards eligibility) followed by a release on the increasingly robust Netflix, who seem to have their hands on several of the biggest contenders for the coming months. The film is set in 1970s Mexico, and is based on Cuaron's own experiences growing up in a middle class home during an escalating and ultimately bloody clash between government forces and student protesters. The trailer showcases some beautiful visuals, and some of the gritty street-level chaos he previously showcased in the spectacular Children of Men. On a whole this is clearly a smaller scale, niche affair compared to his previous sci-fi blockbuster, Gravity, but it's looking very bit as promising at this moment.
MADHERO: Man, this was a gorgeous trailer. I honestly didn't know this movie was going to be black and white honestly.
STICKMAN: I'm always here for black and white films that utilise the contrast to make great visuals.
MADHERO: It definitely looks to be Cuaron's most personal film, which is funny after such a big film like Gravity. He takes his time, but he always delivers.
LARRY: Yeah it's a good trailer. Makes me curious to learn what the actual plot is about considering the trailer does nothing to show me. But hey, it beats black and white waves for 30 seconds.
STICKMAN: I explained what the premise is, bruh.

LARRY: Yeah the trailer doesn't do that. That's my point.
STICKMAN: It conveys a mood and hints towards a time of cultural tension.
MADHERO: Its a bit more interpretative. It's really weird how slow Cuaron works. I really thought there was something between Children of Men and Gravity, but nope. Then again, the latter took quite a while to get made. Going back to Mexico, to essentially his childhood is gonna be an interesting experience.
LARRY: Aesthetically it's nice, but I wanted a few more concrete details. I'm mixed with Cuaron personally, so I'm hoping this return to his roots makes for something less pretentious and more personal.
STICKMAN: I feel it said plenty without any words, which was cool. But there you go. I love Cuaron, even his Harry Potter film was the best one.
LARRY: I wasn't a huge fan of Gravity. But I do like Children of Men and Azkaban.
MADHERO: To me, Cuaron hasn't gone wrong for me yet. Its gonna be a different ride from him, but I'm sure it'll be amazing.
---------------
MADHERO: Alright, I think that's about it in terms of news. The end of August is upon us, and we actually have an event movie to end the summer with a bang. Just a bummer that event ain't for us. Damn you under-served market who finally get to see themselves on screen! I have nothing for me, a white man!
STICKMAN: We have an event movie? Is it Godzilla?
LARRY: I say it's an event movie for everyone!!
MADHERO: I'm of course referring to puppets everywhere who finally get to see themselves on screen, and I guess Asian people as well get something nice.
LARRY: We can all celebrate representation!! Those puppets need love!!
STICKMAN: #MakePuppetsJizzAgain
MADHERO: ....Let's talk about the Asian movie first.
MOVIES
CRAZY RICH ASIANS
DIRECTOR: Jon Chu (Jem and the Holograms, Now You See Me 2)
STARRING: Constance Wu, Henry Golding, Gemma Chan, Michelle Yeoh, Awkwafina, Ken Jeong, Lisa Lu, Chris Pang, Sonoya Mizuno
SYNOPSIS: Chinese American economics professor Rachel Chu (Wu) accompanies her boyfriend (Golding) to Singapore for his best friend's (Pang) wedding, only to become thrust into the lives of Asia's rich and famous.
LARRY: Visual splendor and representation? Nice.
STICKMAN: See, this film isn't not for me because of who it's about, it's not for me because it's a romantic comedy. Looks very nice visually, for sure.
MADHERO: So as someone who grew partially in Asia, its funny to see this film come to life in such extravagant fashion.
LARRY: Yeah, it's a romcom, but after Love, Simon, I've come to accept the importance of the genre if it means good representation, and I'm here to support that.
MADHERO: Yeah, its funny, with the traditional having largely been relegated to Netflix. Apparently they were very interested in distributing this, but the director really wanted a theatrical release
LARRY: And for good reason.
STICKMAN: I think it's great these films exist but I'm a lonely man without anyone to hold me at night and I care not for the romance of others.
LARRY: If that doesn't summarize Sticky perfectly, I don't know what does.
MADHERO: Its basically the Asian version of Black Panther. Its great that it not only does representation well, but that its also a pretty good romantic comedy.
STICKMAN: I bet it has better CGI than Black Panther.
MADHERO: Don't need no CG when you have Michelle Yeoh.
LARRY: How did we get two Akwafina movies this year...?
MADHERO: Well when you need as much Asian actors as you can, it just sorta happens. Like I said, its not for me, but I'm glad so many people get to see themselves represented. And hey, my sister liked it.
STICKMAN: Representation is important, films that aren't romantic comedies are more important, though.
MILE 22
DIRECTOR: Peter Berg (Deepwater Horizon, Patriots Day)
STARRING: Mark Wahlberg, John Malkovich, Lauren Cohan, Iko Uwais, Ronda Rousey
SYNOPSIS: An elite American intelligence officer (Wahlberg), aided by a top-secret tactical command unit, tries to smuggle a mysterious police officer (Uwais) with sensitive information out of Indonesia.
STICKMAN: The Overwatch movie we've all been waiting for.
LARRY: Oh hey, Mark Wahlberg.
MADHERO: I guess the 22 refers to the Rotten Tomatoes score
STICKMAN: OOHH SHIT B-B-BUURRN. What a perfectly good waste of Iko Uwais.
LARRY: Now I just wanna rewatch The Raid.
MADHERO: Mark Wahlberg can play a lot of things. A genius is not one of them. Also wasting Iko Uwais through shitty editing should be a war crime. I saw some clips and its Taken 3 levels of cuts.
STICKMAN: Disgusting. The Raid 2 is where it's really at. Get that man a John Wick movie stat.
MADHERO: This is the 4th Peter Berg/Mark Wahlberg joint, and maybe its time to call it quits on this relationship.
STICKMAN: Mark Wahlberg should try some brighter colours one day. Less black leather, maybe a nice pink number?
LARRY: A few warm blues. A neon purple?
MADHERO: Lets eat a Wahlburger and get outta here.
THE HAPPYTIME MURDERS
DIRECTOR: Brian Henson (Muppet Christmas Carol, Muppet Treasure Island)
STARRING: Bill Barretta, Melissa McCarthy, Maya Rudolph, Joel McHale, Elizabeth Banks
SYNOPSIS: In a world where puppets exist but are reviled by society, puppet private investigator, Phil Phillips (Bill Barretta), reunites with his ex-partner Detective Connie Edwards (Melissa McCarthy) to find a serial killer who murdered Phil's brother and is now targeting the cast members of the 1980s television series The Happytime Gang.
MADHERO: Oh man, what a journey this has been.
STICKMAN: If you can call plummeting off a cliff a journey.
MADHERO; One part of me is amazed this movie is actually coming out. The other is annoyed that it looks kinda bad.
STICKMAN: The trailers are just so embarrassing and edgy. This is a disaster.
LARRY: I know this isn't really clever at all, but yeah, this movie looks really bad.
STICKMAN: Mellisa McCarthy, like...you want to give her a chance  and not just immediately assume everything she's in sucks? But then...she stars in films like this? It's like a warning sign.
LARRY: McCarthy self-enables her own shitty spiral of films. She collaborates with similar filmmakers multiple times, and sticks to a relatively similar style of humor in each film.
MADHERO: I don't think you can accuse of being safe with a project like this, but yeah, not a fan. The original pitch sounded really clever and interesting in that it took a hardboiled noir approach. That seems all gone in favor of way more puppet jizz.
STICKMAN: We don't get many puppet films, can we like, not make them awful when we do them? Lets make a puppet horror movie where the humans are the monster.
MADHERO: Stickman, you should probably check out Puppet Master soon.
ALPHA
DIRECTOR: Albert Hughes (From Hell, The Book of Eli)
STARRING: Kodi Smit-McPhee, Leonor Varela, Jens Hulten, Johannes Johanesson
SYNOPSIS: After a Steppe bison hunting expedition 20,000 years ago in Europe goes awry, a young man (Smit-McPhee) struggles against the elements to find his way home, all the while developing a friendship with a wolf.
LARRY: Ooh doggies.
STICKMAN: Oh good another dog movie.
MADHERO: Boy meets dog meets Ice Age meets The Revenant
LARRY: What a mixture.
MADHERO: Apparently this movie is actually pretty good. I get the feeling this probably sat on a shelf and they're only releasing it now to be rid of it
STICKMAN: Also it looks nice visually but other than that it seems very generic and obviously heavy on the MAN'S BEST FRIEND sentimentality which is very overdone. Marley and BC.
MADHERO: It does look very pretty in the trailers. Also apparently the actors don't speak English, which is a nice risky move.
LARRY: I have a friend who saw it and surprisingly liked it, so I may give it a shot. Not on the top of my list, tho.
STICKMAN: I figured they weren't speaking English since nobody talks in the trailer apart from an obviously forced in narration.
MADHERO: That felt very old school. It was weird.
STICKMAN: Anyway this movie looks okay and it's got doggies in it so.
A.X.L.
DIRECTOR: Oliver Daly (directorial debut)
STARRING: Alex Neustaedter, Becky G, Thomas Jane, Dominic Rains
SYNOPSIS: A.X.L. is a top-secret, robotic dog who develops a special friendship with Miles (Neustaedter) and will go to any length to protect his new companion.
MADHERO: The first man/dog relationship? FUCK THAT! GIVE ME ROBO-DOG!
STICKMAN: The sequel to Alpha, but like, the 8th installment in the series where things got a bit out of hand. And they end up in space or whatever.
LARRY: On the other hand....... I'm just surprised the name AXL made it past the writer's room.
STICKMAN: Shoulda called it Bark and BYTE.
MADHERO: This again feels like someone that sat on a shelf and is only now coming out to be rid of it. Also no surprise its coming from Global Road, a studio that's begging to die.
STICKMAN: I mean the robot dog is cute I guess. I'm getting Monster Truck vibes though.
LARRY: It's pretty ferocious looking. Not very cute.
STICKMAN: Nah. You shouldn't judge a robot by its weaponry Larry, did you learn nothing from The Iron Giant.
MADHERO: Its very much a grown up Monster Trucks, but it probably wasn't as pointlessly expensive.
STICKMAN: You better believe we got sick bike tricks, robot dogs, you betcha. Don't even worry about it.
MADHERO: You can either watch prehistoric doggo's or future doggo's. What a time to be alive.
LARRY: I choose no doggos, thanks.
STICKMAN: I'm really more of a cat person.
---------------
MADHERO: Alright, no dogs then. Then maybe we'll go for MOVIE OF THE WEEK
STICKMAN: OoOoOOHH? WHAT DOG FILMS DO WE HAVE HERE THEN?
MADHERO: I don't think there's any dogs involved  in my movie. Don't really know if its also the case for you guys.
LARRY: There are....I think no dogs. I honestly cannot recall.
MADHERO: Maybe they're hidden under all those hoods. I guess that's kind of a tease of what you're talking about, so maybe you go first.
LARRY: Wowwwwwwwww. Alright, well here goes nothing...
MOVIE OF THE WEEK
LARRY: My MOTW is the ridiculously spelled BlacKkKlansman, the latest Spike Lee joint. As I'm sure we all know, Lee can be a bit hit or miss because of how politically volatile and strongly stylistic his filmmaking is. However, I can attest that this is one of his better joints, and arguably a return to form to the nuanced, powerful days of "She's Gotta Have It" and "Do The Right Thing."
Naturally, a story about a black cop infiltrating the KKK seems to be pretty straightforward, but believe it not, Lee doesn't paint one side as a clear hero, bringing multiple sides of the discussion into the light, from cops, to Jews, to black protestors, and not shying away from seeing the shades of gray. Beyond this, there is also incredibly poignant, almost disturbing juxtaposition that makes for some of the most intense and captivating scenes of the year. Beyond this, it has an excellent cast, smart cinematography, pitch-perfect pacing, and an ending that, while a bit too indulgent in my opinion, will surely leave people speechless. Along with Blindspotting, this is a film that takes its politics and uses them to portray an interesting, hilarious, and action-packed narrative.
MADHERO: Ooooooooh, things about to get spicy in here.
LARRY: I mean...it's good. It's very good.
STICKMAN: I can't work out if this is a comedy or not. Trailer gave off comedy vibes but I've been hearing a lot of people talk about how shocking and upsetting it is.
LARRY: It has comedic elements for sure, but it is rooted in drama.
MADHERO: I figured as much. A lot of Spike's movies still have some comedy in them. Do the Right Thing is also a drama steeped with a lot of comedy.
STICKMAN: I guess the drama just tilted on the comedic angle a lot.
LARRY: Yes, especially when it comes to David Duke.
MADHERO: Speaking of the Dukester. How's Topher Grace? I hear he and Adam Driver might be up for Best Supporting Actor.
STICKMAN: Venom himself up for an Oscar? What crazy times.
LARRY: I think Driver comes much closer than Grace. No question.
MADHERO: I'm gonna see this film as soon as I can. I don't think it'll have the same response as it'll have in the States, but that's stating the obvious.
STICKMAN: I'm pretty sure it's not screening at my cinema but then what else is new. Guess I'll wait and seeee.
LARRY: Hopefully you'll get the chance to see it!!
STICKMAN: SPEAKING OF...uhh....what's your film Mad.
MADHERO: Well. Its up to me to bring it back to the mainstream and go for something the whole world can enjoy. Does a movie like Avengers Infinity War even need introduction? Chances are that you've probably seen it, enjoyed all the memes and are chomping to bits for the eventual Avengers 4 to come in 2019.
Its been a film where we had to dedicate an entire spoiler special to, and for good reason. A lot happens in Infinity War, and it really does feel  like its the endgame, even when we'll get a whole other batch of Marvel movies afterwards. It breaks so many rules in the movie playbook: it doesn't really have a set protagonist/main character, and it ends in a really unexpected fashion. So by this point, you already know whether you're with this film or not. Its gonna be impenetrable for anyone that's not been on the MCU ride, but for the millions that are ,its a great time that leaves you begging for more.
STICKMAN: Never heard of it.
LARRY: Avengers? Sounds like some arthouse indie.
MADHERO: Oh. Well, guys, there's this thing called the MCU. There's 20 of them, and you need to see at least half to get this movie sooooo..... GOOD LUCK!
LARRY: Meh, I'll pass.
STICKMAN: I'll have to check it out some time I dunno. Not really my thing.
MADHERO: Well when you do, lemme know what you think. These films are really funny, but this one is definitely more of a bummer that won't make you feel so good, but it has some great action along the way.
STICKMAN: I'll stick to the DCEU I thin-I CAN'T EVEN JOKE ABOUT THAT.
LARRY: I mean, it's not like this film has both John Brolin AND RDJ. I mean, that may make me reconsider.
MADHERO: Quite a few actors, yeah. Too many some would say. Anyway, what's your MOTW Sticky? Is it something we've all heard of?
STICKMAN: OH LOOK, IT'S A QUIET PLACE. The hit horror movie of 2018....well....it's a hit movie anyway, whether or not you consider it horror, or merely an intense sci-fi drama is up for debate, and the real hit HORROR of the year so far has to be Hereditary...but...there's one thing you can't deny about A Quiet Place, which is that it's very good indeed.
Starring that guy from The Office and Emily Blunt as parents trying to protect their children, both born and unborn in a post-apocalyptic America, where aliens that hunt based on even the smallest detectable sounds have invaded and wiped out most of the population. Those that survive have to live in basically total silence, making for a very unique and constantly tense cinematic experience, which made for a fantastic, oddly surreal time at the cinema, and I'm sure will still work well now it's on the ol' home videos. Again, as a horror film it's somewhat lacking, I feel, but as a drama, and a high concept sci-fi film? It's really great stuff, and well worth a watch, providing you can deal with the tension, and the feels.
LARRY: So, yeah, this movie is damn good.
MADHERO: Oh hey, I've heard about this movie, which may or may not be good considering you're meant to be quiet.
STICKMAN: It's all very hush hush. But not like the movie, Hush.
MADHERO: It remains really weird that it was John Krasinski directed this film. It's definitely something you expect from a new genre filmmaker. Not Jim of the Office.
LARRY: Yeah, I agree that this movie makes for a very unique filmgoing experience. Actually forces the audience to shut up.
STICKMAN: He does a good job in the directing seat, but also gives a great lead performance. He's a real go gette.r that Jim.
LARRY: I absolutely loved Krasinski in this film. Hard to imagine him as macho but then you give him a beard
STICKMAN: Now he's a real daddy type.
MADHERO: Slight weakness to nails tho.
STICKMAN: Oof. Chekov's Nail. But yeah, just imagine The Last of Us with the sound turned off and you've got a good idea of this movies tone.
LARRY: Perfect description, honestly. Except no infection and zombies and stuffz
-----------------
MADHERO: Cool. I think that about wraps up everything. Its time to go back to school as Hollywood faces the September Slump. Guess we'll just go to this not at all creepy Sunday School.
LARRY: Uh oh
STICKMAN: There are Nun scarier schools than that.
MADHERO: Well its either that or....... damn.... September Slump is gonna make this difficult to discuss. We'll make it work though. Laaaaaaaaater
STICKMAN: INSERT JUMPSCARE HERE GOODBYE
LARRY: GOTTA TURN MY VOLUME DOWN OH WAIT BYE